HISTORY
"Welcome! thrice welcome! to the year 1893, For it is the year that I intend to leave Dundee.", wrote poet William McGonagall in his New Years Resolution poem but if he did so, then he would have been unfortunate enough to miss the birth of Dundee Football Club who were founded that year and their first ever game which was played at West Craigie Park against Glasgow Rangers on August 12th. Dundee F.C. were formed from the amalgamation of two local clubs Our Boys and East End and their merger formed the basis of an application to join the three year old Scottish Football League into which they were admitted in June 1893.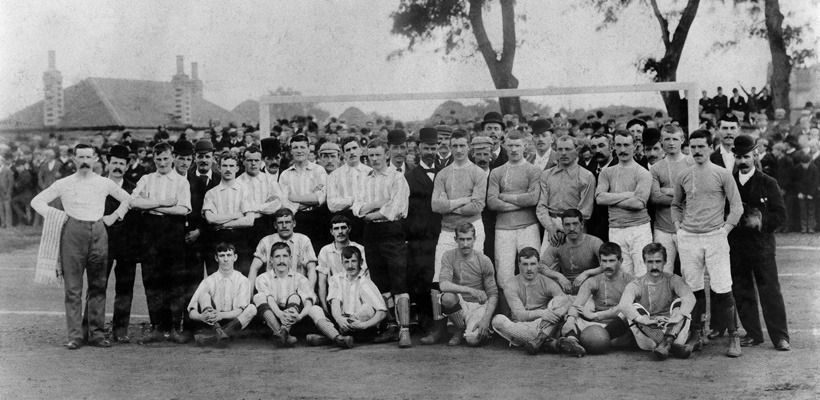 Their first match took place therefore at the home of Our Boys with their colours being the sky blue and white strips of East End and on the 'Glorious Twelfth', Dundee's first match ended 3-3 with Sandy Gilligan having the honour of scoring the Club's first goal. By the end of their debut season, Dundee had moved to a new ground at the city docks at Carolina Port where a smoking slag heap on the adjacent Gas works on the Broughty Ferry Road side, nicknamed the 'Burning Mountain' often gave hundreds of fans, a free view of the game. In March 1894, goalkeeper Bill March, centre-half William 'Plum' Longair and left winger Sandy Keillor became the first Dundee players to represent Scotland in a 2-1 victory over Ireland in Belfast and two years later Keillor became the first Dundee player to score for Scotland in a 4-0 triumph over Wales in the first and only international to be held at Carolina Port.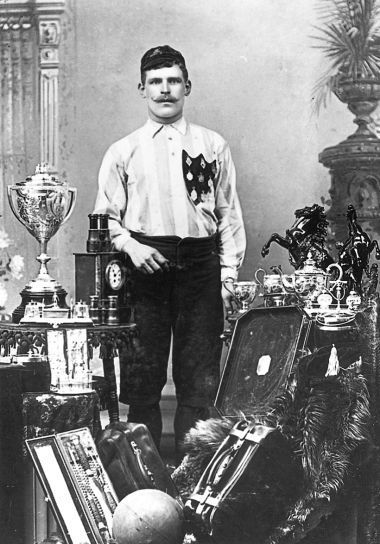 'The Port' had a superb playing surface but it was too remote, with no public transport links and in 1899, Dundee moved to their current home of Dens Park. Dens Park was officially opened against St. Bernards on August 19th 1899 when Fred McDiarmid was awarded with a medal for scoring the first goal on the new ground and the move was the start of the good times for The Dee. Twelve months previously, Dundee were saved from liquidation after poor gates had contributed to large debts and the part of the new committee's strategy was increase attendances by relocating to the new ground. It was a move that paid off, as the crowds started to flock to Dens and with Dundee now regularly playing in the dark blue of Our Boys, they finished as runners-up in the Scottish League championship three times within the next decade.

DUNDEE IN THE 20TH CENTURY

Silverware was also just around the corner and in 1910, Dundee won their first major honour when they brought home the Scottish Cup for the first and to date only time in the Club's history. After a marathon ten game campaign, Dundee won the oldest football trophy in the world after a 2-1 win over Clyde at Ibrox in the second replay. Jimmy Bellamy scored the equaliser after the Bully Wee had taken the lead and it was John 'Sailor' Hunter who wrote his name into Dundee folklore by scoring the winning goal. It would be another forty-one years before Dundee would win another major honour, although they did reach the Scottish Cup Final again in 1925 when they lost 2-1 to Celtic who scored two late goals after Davie McLean gave Dundee a half-time lead. However it wasn't until after the Second World War that Dundee emerged as a major force in the Scottish game when managing / director George Anderson built a side that was to challenge for honours. Having been relegated on the eve of War, Anderson lead Dundee to back to back B Division championships, having been denied promotion in the 1945/46 season as the Scottish League gave clubs a years grace to get players back from the armed forces and soon they were challenging for the A Division title. Anderson would tell the players to 'go out and enjoy themselves' and he liked to encourage attractive football and Dundee's first season back in the top flight was rewarded with a fourth place finish, their highest placing for twenty-six years. Season 1948/49 saw Dundee reach the semi-finals of both the League and Scottish Cups and in the League Championship finished second after a heart breaking last day defeat. Dundee were one point ahead going into the final match at Falkirk and a win would guarantee the League Flag, regardless of what Rangers did at Albion Rovers but it wasn't to be.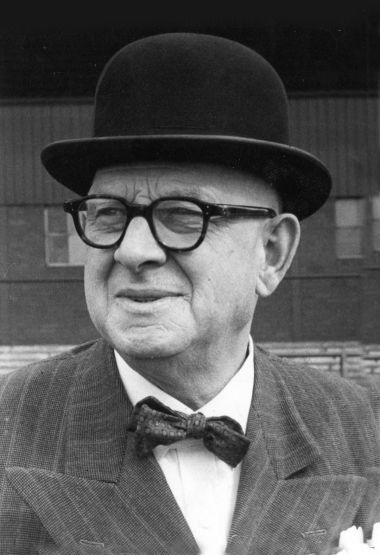 The Dundee players were flooded with nerves and the effervescent and chirpy Anderson was unable to dispel them. When confronted with the usual pre-match opposition banter, Anderson locked his troops in the dressing room an hour before kick off and tried to protect his players from unnecessary distractions. It back fired however as Dundee first missed a penalty while at 0-0 and then fell apart in the second half and went down 4-1 as Rangers snatched the title with a similar score line at Coatbridge. In just five short years however, Anderson had taken Dundee from Division Two also-rans to Championship contenders but the fact was, that there was no major trophies in the Dens Park cabinet and he had to work out how he was going to change that. However it was the signing George Anderson made in September 1950 which was the final piece in the jigsaw, when pulled off one of the transfer coups of the century when he signed Scottish superstar Billy Steel for a world record fee of £23, 500. Anderson had fought off competition from Rangers to land Steel and the inside forward brought power, skill and imagination to the Dundee forward line. It was extraordinary for a provincial club like Dundee to pay such an extraordinary fee and Anderson's philosophy of 'think big' was repaid when silverware was soon on its way to Dens. With the strong back-line of Cowie, Gallacher and Boyd added to the goals of Flavell and the skill of Steel, Dundee won their first trophy since 1910 when on October 27th 1951, Dundee won the League Cup in an exciting 3-2 win over Rangers at Hampden. Twelve months later Dundee became the first club to retain the League Cup when the defeated Kilmarnock 2-0 in the Final and with a Scottish Cup Final defeat to Motherwell squeezed in between the two League Cup wins, Anderson had finally turned Dundee in a trophy winning, Scottish footballing force. While the early fifties brought cup glory, the rest of the decade would see dismay for the Dark Blues in the country's main competition notably with a three nil defeat in the season 1953/54 by C Division Berwick Rangers. Things got worse five years later when in January 1959 Dundee visited to Highland League Fraserburgh in the Scottish Cup first round and crashed out with an embarrassing 1-0 loss. With a team that was full of experience and youthful promise, the Dark Blues had Bill Brown and Doug Cowie both of whom appeared for Scotland at the previous year's World Cup Finals, alongside Jimmy Gabriel who would go on to have a fine career with Everton, Hugh Robertson, Alan Cousin, Bobby Cox and Alex Hamilton. On paper Dundee should have been comfortable winners but the defeat to 'The Broch' is perhaps the biggest shock defeat ever from a Highland League Club.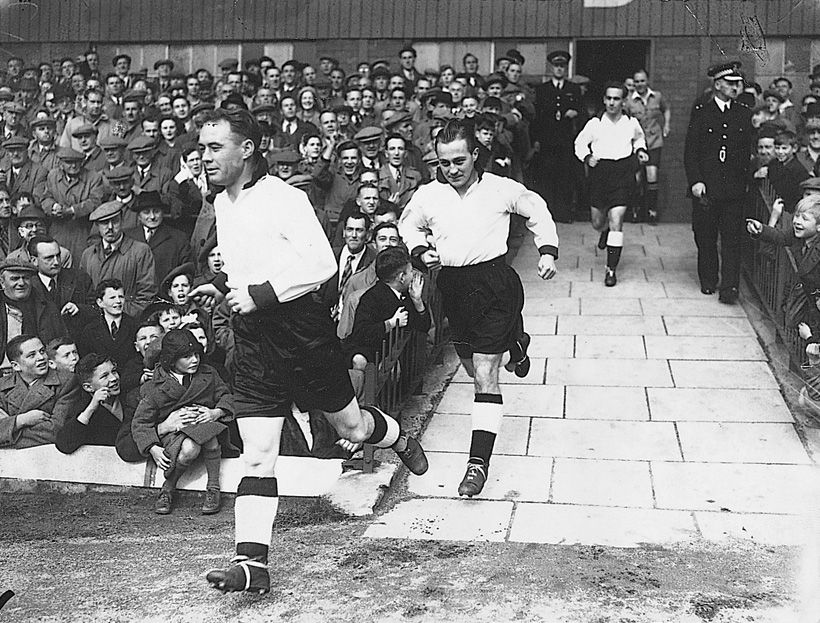 However Robertson, Cousin, Cox and Hamilton didn't have long to wait for honours, for in season 1961/62 the Dark Blues had their most glorious season, beating Rangers 5-1 at Ibrox and winning the Scottish League championship with a 3-0 win at Muirton Park, Perth on the final day of the season. The names of Liney, Hamilton, Cox, Seith, Ure, Wishart, Smith, Penman, Cousin, Gilzean and Robertson trip off the tongue of every Dundee fan young and old and managed by Bob Shankly, they were described by Scottish Football historian Bob Crampsey as 'the best Scottish footballing side to emerge in Scotland since the war, better even than the Lisbon Lions.' Shankly brought together a blend of players together both on and off the park who allowed Dundee to live their dreams. There were the young stars like goal scoring phenomenon Alan Gilzean, who had trained as a painter and decorator, Ian Ure, who had given up rugby to play football for Dundee and Andy Penman, the 'Penalty King', the homesick genius whom Willie Thornton had rescued from Everton at the tender age of fifteen. There was the ageing genius Gordon Smith who had been put out to pasture by Hearts with four championship medals in his pocket, whom Bob Shankly picked up for nothing at the age of 37 and who would play in a European Cup semi-final at 39. There were fellow veterans Bobby Wishart and Bobby Seith who had championships behind them with Aberdeen and Burnley respectively and who would bring vital experience to a young team.

There was Alan Cousin, the part-time footballer who juggled his playing career with school teaching and whose double shuffle was something that could never be taught. There was Hugh Robertson, deft and electric on the left wing and Pat Liney, without whom the Championship might not have been won had he not saved a penalty against St. Mirren in the penultimate game. There was Alex Hamilton, Dundee's most capped player with 24 international appearances for Scotland, a joker and an extrovert, whose party-piece was playing keepie-up with a sixpence before flicking it up and catching it in his pocket and fellow full back Bobby Cox, the local boy who with his famous sliding tackle who skippered the Club he loved to its greatest moment. Legends all of them and the following season, Dundee set off on a memorable European odyssey as the Club entered into it's first foray into continental competition. As they took their European Cup challenge to a semi-final against AC Milan, they showed that the classic Scottish passing game which they played, could work as well in Europe as in Scotland. Their campaign began with an 8-1 thumping of second favourites Cologne, before a bruising rematch in Germany. Sporting Lisbon and Anderlecht were also despatched before AC Milan ended the dream 5-1 in the San Siro despite Dundee winning the second leg 1-0 at home. Another Scottish Cup Final followed in 1964 when only two late goals denied them a replay against Rangers in a game during which keeper Bert Slater turned in one of all time great performances in a final and a League Cup Final was reached in 1967 where the Dark Blues lost 5-3 to Celtic.
That same season Dundee reached their second European semi final as they reached the last four of the Inter City Fairs Cup - the predecessor to the UEFA Cup where they lost to Don Revie's Leeds United 2-1 on aggregate. 1973 brought Dundee's last major trophy when captain Tommy Gemmell lifted the League Cup after Gordon Wallace's winner had beaten Celtic 1-0 at Hampden and both would later go on to manage the Club.. Two seasons later came the formation of the Premier League, something Dundee had been prime movers in establishing, but they were not in it long, being relegated at the end of the first season. They found life tougher than anticipated in the First Division and although promotion was achieved in 1978 the Dark Blues were back down by the end of the following campaign despite registering a famous 5-1 win over Celtic towards the end of the season. 1980-81 saw them win their way back to the Premier League and reach another League Cup final which was played at Dens Park in an historic Jute City Final against Dundee United and once up Dundee, stayed in the top flight throughout the eighties. duffyThe nineties brought more years in second tier wilderness with a Centenary Cup win in 1990 and two First Division titles in 1992 and 1998 and another League Cup Final as a First Division club, where they lost 2-0 to Aberdeen at Hampden.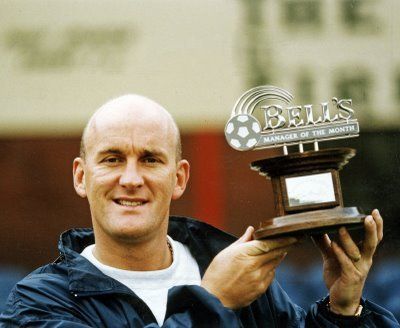 Promotion in 1998 entered Dundee into the inaugural Scottish Premier League but it was a season that Dundee off the field were in a continual fight against adversity, expulsion, bankruptcy and takeover fears. The S.P.L. wanted to see Dens Park as a 10 000 all seated stadium within twelve months and Dundee United attempted a takeover and merge the clubs but the players got on with it and turned in some terrific performances. On the field, Dundee showed a gritty determination and fighting spirit to retain their top flight status and by the end of the season, The Dee finished in fifth place, their highest league position for twenty-five years and never bettered since they were Scottish champions in 1962. Dundee had also failed to finish above their rivals Dundee United during the same period but now they managed to achieve this after a memorable derby victory on May 1st 1999 when goals from Brian Irvine and James Grady gave Dundee a famous 2-0 win. The stands were built and named after the League Championship winning captain and manager Bobby Cox and Bob Shankly and despite being within a point of finishing fifth again that season, Jocky Scott was replaced in favour of Italian manager Ivano Bonetti. Bonetti would bring excitement, stars and wonderful football and had no problem attracting players, most notably Argentine superstar Claudio Caniggia but the problem was that apart from Caniggia, they could not sell the stars in for a big profit. With cost spiralling out of control and no tangible league or cup success to match Dundee's stylish football Bonetti left in 2002 to be replaced by Jim Duffy who took over for the second time. History Page 2